Featured Customer

Metadata changes on the fly
We use Snapshot nearly every day to move configurations across orgs. For example, we have an "out-of-the-box" configuration that we need to
More
move to every new customer org at the beginning of a new implementation. We use Snapshot to move custom objects, custom fields, page layouts, email templates, process builders, and much more. We also have many cases where a solution consultant has created a configuration for one customer that will be useful for another customer. Before we had Snapshot, we did these configurations by grabbing the newest person on the team and saying, "Hey new guy! We need you to manually do a bunch of configuration work. It will take you a couple of days … hope you don't get carpal-tunnel syndrome!"We have saved literally tens of thousands of dollars in consultant time since we purchased Snapshot. Our ROI is huge. I highly recommend this app!


Less
— Propel PLMDirector of Professional Services September Higham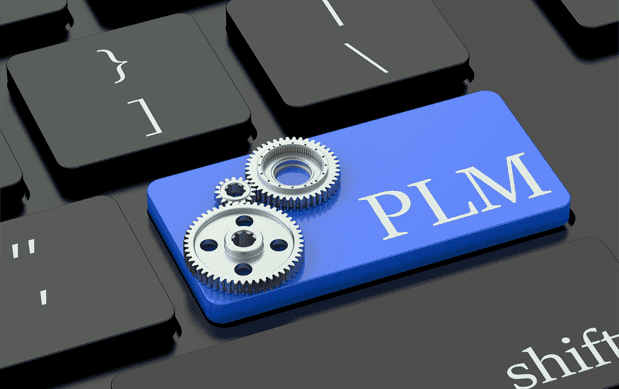 The enterprise software that Propel provides are specialized, B2B solutions that help businesses manage their product data. They provide product lifecycle management (PLM), product information management (PIM) and quality management solutions (QMS) built on he Salesforce platform.
Their client base is centered on engineering and manufacturing, including medical device companies with complex and demanding end-to-end quality control requirements. They also have a number of retailers with more common product and customer management concerns. All of their solutions are built on the Salesforce platform, and Propel's business is based on managing the configurations of their customer's Orgs.
Everything Propel does for their clients — which ultimately enables collaboration within the client's operations and with partners and the customer base — is intertwined with Salesforce. Using it as efficiently as possible is a crucial bottom-line business reality for Propel. Snapshot's ability to do a few specific things has quickly become vital to their operations. And surprisingly enough, they don't even use most of Snapshot's capabilities.
"I feel like we're probably using about 30 percent of your functionality. We only move configurations. We needed to go from one Org to a completely different Org with no relationship whatsoever and there aren't many systems that will do that," says Higham.
That 30 Percent Is Crucial
The key transition when a client purchases Propel's service is the configuration, meaning the integration into the client's Org of the dozens and dozens of custom objects, fields, field sets, page layouts, and reports that Propel develops and deploys. This combining of the client's Org and the master configuration Org that Propel uses as a starting point is obviously crucial, time-consuming, and tedious.
With Snapshot, that entire process is automated and finished in hours, not days. It frees up the Propel team to dig into more important things.
"What we need is really simple, pretty straight-forward," according to Higham. "But I'm telling you, it saves us — I mean literally tens of thousands of dollars, because when you add up 2 days here 2 days there it becomes a lot."
In addition to the preliminary work, Snapshot also allows Propel to quickly deploy solutions between one project and another. Another tedious, time-consuming process that used to be done manually but now happens quickly.
"It would take a couple of days just for the initial — what we call our out-of-the-box configuration — for someone to manually do that initial configuration. And then the customer might say, 'well I really need an equipment calibration function, can you do that for us?'" explains Higham. "So, we would have to take the new guy and say 'we did an equipment calibration for this customer over here, can you copy what we did for this customer and put it into this customer's Org?'There is a lot of ongoing configuration going on so it was very, very tedious."
This desktop pipeline below is an example of Propel's. By simply dragging an arrow from their Org, they are able to move custom objects, custom fields, page layouts, field sets, process builders, email templates, etc. very easily into their client's Org.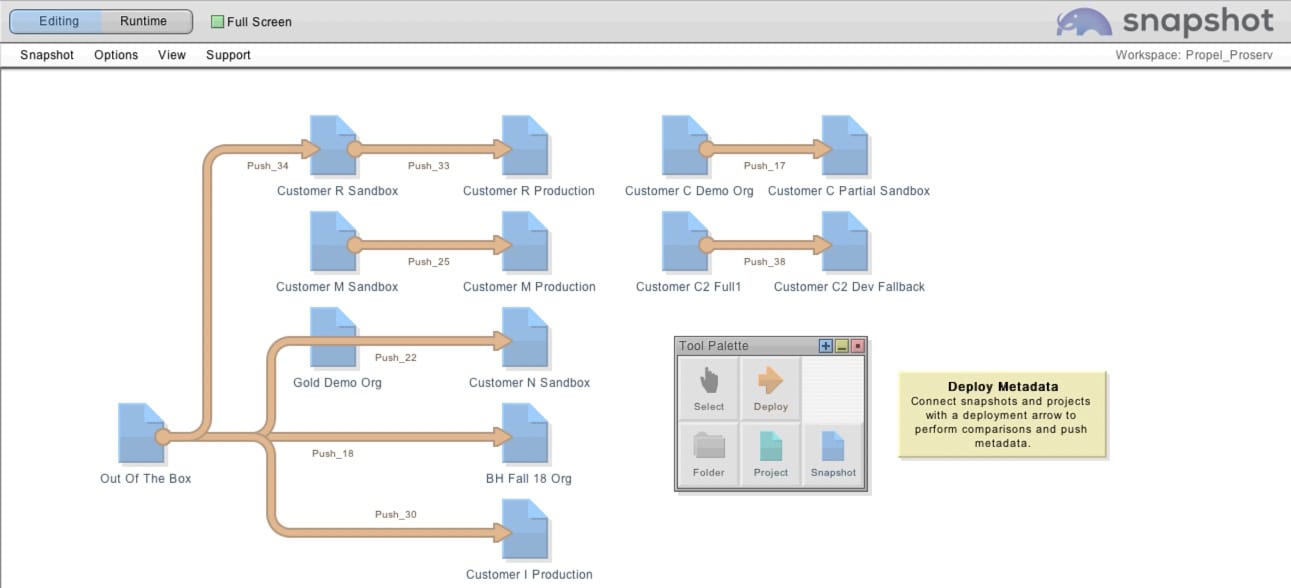 Snapshot empowers the quick, seamless, deployment of their out-of-the-box configuration and custom configurations between Orgs.
Onboarding and Support
It also helps that Snapshot is easy to use. Propel does not incur significant training expenses to get team members up and running, since its workforce is steeped in the inner workings of Salesforce. Anyone on the Propel team can generally get a handle on Snapshot pretty quickly.
"Within a few hours of messing around, we felt like experts.We just knew what to do. Really, everyone here is absolute rabid fans of you people," gushes Higham. "It's really revolutionary to be able to deploy customers so quickly because we have a tool that allows us to push configurations from place to place. It's everything to us!"
Only occasionally does anyone at Propel need support from the Snapshot team.
"We had something that was tedious and time-consuming and was costing us a lot of money and you provided us with a tool that everyone was able to pickup super-fast and just did precisely what we needed it to do,"concludes Higham. "We have saved literally tens of thousands of dollars in consultant time since we purchased Snapshot nine months ago. We are more efficient and more accurate and far less grouchy now that we have a tool to automate what we used to have to do manually. Our ROI is huge."