[vc_row row_height_percent="20″ back_image_auto="yes" back_image="66838″ overlay_alpha="92″ gutter_size="3″ column_width_percent="80″ shift_y="0″ z_index="0″ el_class="custom-height"][vc_column column_width_percent="100″ override_padding="yes" column_padding="3″ overlay_alpha="50″ gutter_size="3″ medium_width="0″ mobile_width="0″ shift_x="0″ shift_y="0″ shift_y_down="0″ z_index="0″ width="1/1″][vc_row_inner row_inner_height_percent="0″ overlay_alpha="50″ gutter_size="3″ shift_y="0″ z_index="0″ css=".vc_custom_1519812978751{margin-top: 20px !important;border-right-width: 20px !important;border-left-width: 20px !important;}"][vc_column_inner width="1/1″][vc_column_text el_class="simple-head-text"]Enhance Compliance, Security and Governance with Asset History[/vc_column_text][/vc_column_inner][/vc_row_inner][/vc_column][/vc_row][vc_row][vc_column width="1/1″][vc_column_text el_class="landing-page-content"]
New Asset History Report
Think for a second about your production Salesforce account. Most orgs will have Custom Tabs, Page Layouts, Custom Objects, Profiles, Visualforce Pages, and many other configurations. The Metadata API currently supports about 150 different types. And for each type, there are many individual assets. An Unlimited Edition org can have up to 2000 Custom Objects, each with a maximum of 500 fields. There can be hundreds or even thousands of Roles, Profiles, Dashboards, and other assets.
Now think about this. Where did all that stuff come from? Who deployed it? When? Was it tested in a Sandbox? Was it modified with the Setup Menu? What was the chain of custody starting with the original developer who created it, down through various Sandboxes and other staging orgs before it ended up in your production account?
The new Asset History Report can answer these questions. This report mines the "meta metadata" that Snapshot stores in the licensed org along with additional information from the Salesforce Metadata, Tooling, and Data API. As a result, the Asset History Report can tell you when each metadata asset was originally created, what changes were made to the asset, who made these changes, which orgs the asset moved through, and when the asset was last modified. This is a game-changing report for compliance, security, and governance.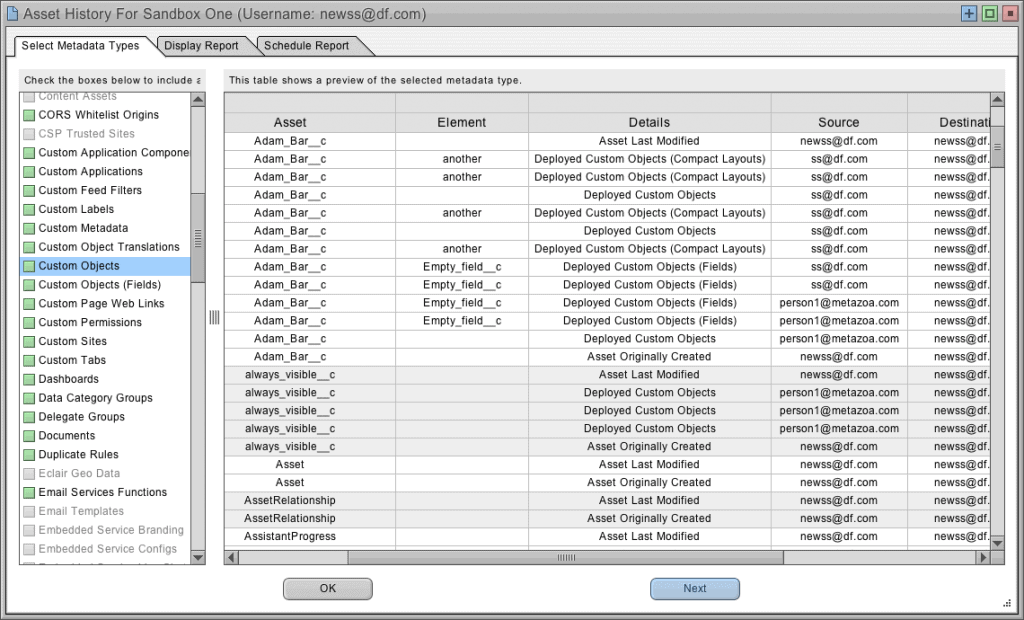 Twitter: @metazoa4sf
Facebook: https://www.facebook.com/metazoa4sf
LinkedIn: https://www.linkedin.com/company/18493594/
[/vc_column_text][/vc_column][/vc_row][vc_row][vc_column width="1/1″][vc_button border_width="0″ link="url:http%3A%2F%2Fwww.metazoa.com%2Fwp-content%2Fuploads%2F2018%2F06%2FEnhanced-Compliance-and-security-feature.pdf||target:%20_blank|"]Download[/vc_button][/vc_column][/vc_row]